Contribute to the Season Two fundraiser here!
Does every board game have a silver lining? Hi, I'm Chaz Marler, and that's the question I attempt to answer on
Pair Of Dice Paradise
,
a YouTube series
featuring informative and entertaining reviews, previews and commentaries about board games and the board game community.
This month I'll be starting the
second season
of the show. Now, the goals that I set for the first season were to establish the series, find my voice, and to release content regularly. The result has been a video released an average of every five days, and several recurring segments on different board game topics, such as:
The Component Proponent
Shining a spotlight on products and tips that make your board gaming experience more immersive.
Thrift Sift
Exploring games picked up at thrift stores because they look fun or bizarre. (But usually a hilarious combination of both!)
Get Your Wings
Energetic reviews, previews and commentary on upcoming, current and past board games.
and contributions that have appeared on other channels.
Pair Of Dice Paradise
wouldn't have achieved what it has in its first year without the support and encouragement that has been received from our viewers and other content creators. The board game community has been exceptionally supportive, and I am very grateful for all the friends I've made this past year.
And now its time to begin the second season! My goal for the second season is to improve the
quantity
and
consistency
of the episodes, while retaining the
quality
and
energy
that's put into each one. But these improvements aren't something that I can do alone. Investing the time in this series, in order to advance it further, will require approaching it as an occupation.
But in order to do that, I need to buy something, and that something is TIME. Which brings us to the reason for this fundraiser.
Up to this point, all the work that's been done on writing, filming and editing the series has been accomplished in little bits of time taken here and there, sneaking in a few spare hours whenever available in the evening and on weekends. Producing this series has been a lot of work, but also very rewarding.
The reception to the first season's seventy-plus episodes has been resoundingly positive, with viewership growing recently at an average rate of 55% per month!
Dedicating the time to perform the research, development and production that's necessary for the series, will require raising the funds to replace the revenue that would otherwise be coming from other sources. Essentially, the reality of the situation is that, in order for
Pair Of Dice Paradise
to grow into its full potential this year, it will need to become a source of income. And I need the help of you, our viewers, more than ever before, in order to achieve this goal.
Now, I wanted to find several creative ways to say "thank you" to everyone who helps by contributing to this fundraiser, and I'm happy to say that there'll be a variety of premiums to show how much your support is appreciated.
For example, one perk I'm really excited about are these Pair Of Dice Paradise coins, specially made just for this fundraiser. These are polished gold coins with full-color enamel inlays, two-inches in diameter. They have a very satisfying size and weight. They feature artwork of the show's dice mascots on each side, with the winged "Holy Roller" on one side, and the mischievous "Pip" on the other. They work great for determining first player, as a current player marker, or decorating your root cellar.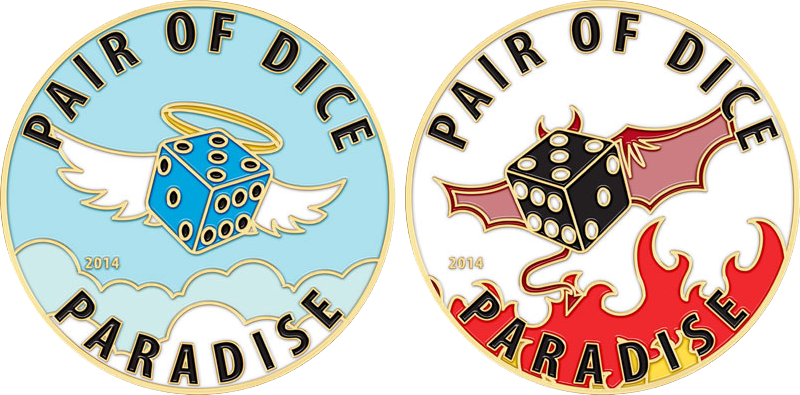 As long as I'm getting creative, another reward will be custom
Pair Of Dice Paradise
playmats. The artwork is still being finalized. I'll be posting pictures of its progress during the course of this campaign. These are durable playmats, produced through InkedPlaymats.com. They measure 24 by 14 inches, and will feature a custom illustration, designed specifically for this fundraiser, and made possible by my Bachelors of Fine Arts degree. They work great for determining first player, as a current player marker, or decorating your root cellar.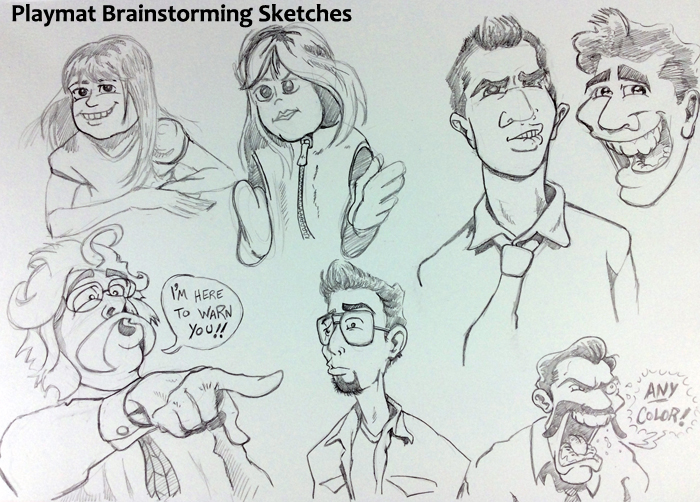 In addition to those perks, some of the contribution levels will get your name added to the list of official financial supporters of the series in the video credits and on the
Pair Of Dice Paradise
website. What's more, some perk levels will also auto-magically enter you into the contests and product giveaways that we have throughout this fundraiser and the year. So, not only will you be internet famous, but you have a chance of winning something to boot.
And lastly, if it wasn't so top-secret, I'd mention the perk that rewards you with an invitation to the
Exclusive, Members-Only Pair Of Dice Paradise Super Hush-Hush Private Facebook Group
, where you'll enjoy such luxuries as access to view videos before they go live to the public, behind-the-scenes content, and long, meaningful* online conversations with Chaz from Pair Of Dice Paradise.
*Conversations may actually be short and meaningless.
So there you have it: where we're at, and where we want to go this coming year. Whether you make a financial contribution to support
Pair Of Dice Paradise's
second season, or if you just help spread the word, I want to offer all of you my sincere thanks. Every donation, every view, every YouTube subscription, Twitter follow, Facebook like, and every comment that's posted is positive reinforcement that helps keep things going and growing. I've appreciated
every moment
I've been fortunate enough to share with the board game community so far, and I hope to have many more moments to come.
Thank you for your consideration, and take care.
Contribute to the Season Two fundraiser here!